Rockinger Tremolo (1981/1982)
The Rockinger was not a licensed Floyd.  It was its own design that came out in 1981, and they struck a deal with Kramer Guitars before any Floyd Rose deal was conjured up.  In fact, the Rockinger was once called the "Edward Van Halen Tremolo" (as shown above) and installed on the earliest Kramer Pacers with a strat-style headstock before Floyd Rose made a deal with Kramer in 1982.  Check out Vintage Kramer for more information.
The Rockinger is most famously used on Eddie's purple-striped Kramer Pacer in 1981/1982.  Eddie supposedly didn't like the brass and had recommendations for it.  It wasn't long before Eddie ditched the Rockinger for the new Floyd Rose FRT-4 Prototype. 
Keep in mind, Eddie was actually playing the Floyd Rose FRT-1 and FRT-3 before Rockinger/Kramer deal, so he was already familiar with Floyd Rose.
The true story!
Back in the 70s and 80s at Rockinger, as today at Duesenberg, I worked mainly in product development and had just discovered this new Floyd Rose trem on Matthias Jabs' Stratocaster. At that time a total insider tip, still without fine tuner, just uncompromising clamping of the strings at both ends – saddle and bridge.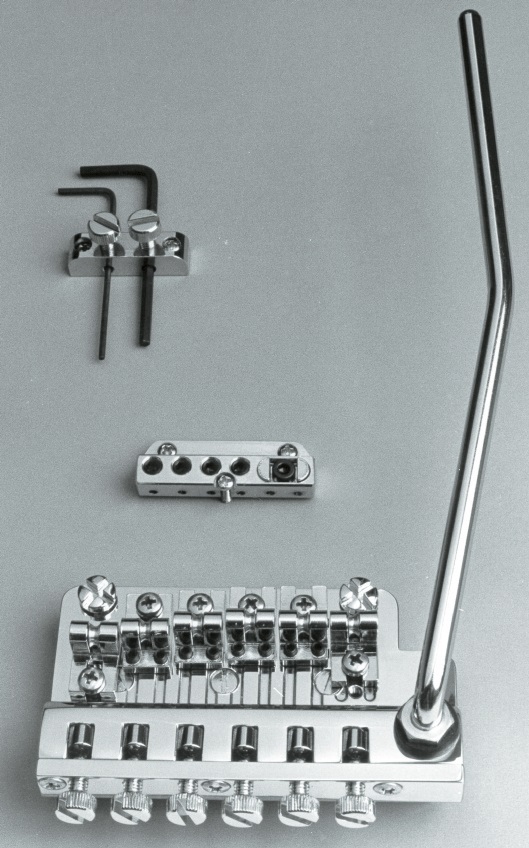 Matthias, who often snowed in at the time, thought it was great, but also signaled the annoyance of this idea, because if a string got out of tune, you had to release the clamp lock on the saddle to adjust it. Then I got the idea with the fine tuners: clamps on the saddle, which, together with the mechanics, always posed a certain friction problem, fine tuning on the vibrato using fine tuners, which were already known from string instruments.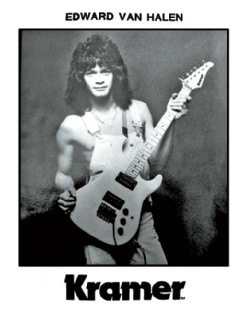 The Rockinger Tru Tune Tremolo was born! It worked wonderfully, and to take things to the extreme, I had also developed a small Allen key holder that was screwed onto the back of the head plate to accommodate the necessary wrenches. (By the way, this key holder is still being copied by several Korean companies.)
Shortly after – in 1980 – we had our first stand at the Frankfurt Music Fair: a real adventure! Stand next door was Kramer / USA. The boss, Dennis Berardi, saw our vibrato and was completely fascinated. I had just recreated the color of the old Fender pickguards "mint-green" and had it worked for a celluloid manufacturer. And: The Americans were thrilled whether fine-tune tremolos and mint green pickguards, contract drawn up – and off they went!
Dennis Berardi immediately got Edward Van Halen (the first Floyd Rose supporter) enthusiastic about the Rockinger tremolo, which was then launched in the USA as "Edward Van Halen Tremolo". All other German guitar companies and of course the suppliers were extremely dirty in these times due to the Japanese competition. The hardware manufacturer Müller & Sohn celebrated all the more because we kept submitting orders for hundreds of these trems, wonderful!
But the Floyd, too, had not slept, but instead developed its fine-tuning tremor – independently of us. It happened to come to our ears, and on top of that Kramer would soon terminate the distribution contract to do business with Floyd Rose. So we booked flights straight away and off to USA, New York, New Jersey, Kramer to check the matter out.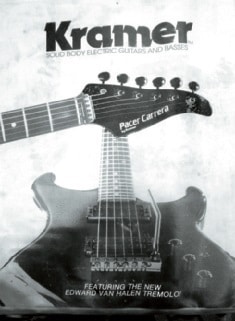 The Kramers of course tried to deny everything, but by chance we discovered a hint of the upcoming Floyd offensive on a pin board. Also in New Jersey was a vintage guitar dealer named Bernard Ayling, who had occupied part of our stand at the Frankfurt fair. We visited him, described the situation to him, and he agreed to take over the USA distribution for our Vibratos.
The Kramers had given us a phone number from Eddie Van Halen's management in Los Angeles during our visit. So we booked the flight to the west coast from Asbury Park, and soon we were standing in front of the Guitar Center LA, and there they were, the Kramer guitars with our beautiful vibratos.
We talked to one of the sellers about that, yes, yes, Van Halen, wow! And the next thing he announced was that Eddie would be here in a few minutes because he had something to pick up. And you don't believe it, seven minutes later we shook hands with Eddie Van Halen. And the man even spoke some German, because actually Dutch.
Then we talked a bit and mentioned that we had a guitar for him in the car, a red and white painted starshape with a tru-tune tremolo. So we all got out to our car and the starshape unpacked. Eddie was thrilled anyway by the Tru Tunes, and so it came to this beautiful photo on the sunset. We had achieved everything we wanted with nothing, yes! That's what I call "divine will"!
Back in Germany, everything went on a successful course. In addition to the Tru Tune, I had already developed other locking systems, the "Les Trem II (Les Trem I was without a fine tuner), which could be anchored in the tailpiece sleeves of a Les Paul or SG. There was also a special roller bridge, which already had both a lateral locking option and two grub screws for fixing. I still don't know what this company TonePros should have a "patent for"… I personally believe that a "normal" tune-omatic bridge that moves with the vibirender works much better. Rolls rarely roll well. Most of the time they tend to rattle or jam! But that wasn't the spirit of the time.
Made in Germany
My friend, the "Doc", aka Klaus Peter Reinicke, gave me the idea of ​​incorporating Mercedes into our advertising campaign. "For the Americans, Mercedes is the thing for German craftsmanship!" So the saying "It's not only Mercedes which makes German products famous" came about. Michael and I posed in front of our Hanoverian neo-classical town hall on the hood of a 1968 double-lamp Mercedes 280-SE – each with a guitar – and announced that we were also designing excellent tremolos in addition to Sauerkraut Essen. Our success was astounding, with Bernard receiving various letters from marketing and advertising agencies indicating that "such an advertisement would not work at all". But – cheeky as we are – we got them, the Americans!
But let me state in retrospect that this whole pinching and fine tuning aria was a lot of nonsense, in the end even a kind of reverse engineering. How can you deactivate components of a guitar (tuning machine heads), override them ?! It's almost as crazy as throttling a car that could actually run 150 km / h to 95 km / h. And many of today's tremolos, which work almost conventionally, clearly show that it can be done without and sounds even better. But after all, the Floyd has become a multi-millionaire.
1984: The tremolo claw
The guitar market was still dominated by clamping and fine-tuning systems, Floyd Rose, Kahler and Rockinger. I hadn't mentioned Kahler yet. That was an upright Californian, Gary by first name, who used milling technology to manufacture a lot of guitar hardware for Schecter and other companies. So, everyone was at the forefront, and the Japanese quickly copied these good-selling items.
In any case, this, my quasi-intimate, Japanese trading partner one day offered me a copy of my own Les Trem tremolo, prices for chrome, gold and black chrome. He just couldn't know that what he was offering was my (!) Intellectual property from the very beginning. We, ie everyone in our company, were of course pissed off about this matter.
Shortly thereafter, at the next Frankfurt trade fair, this took on completely different forms. Gary Kahler appeared extremely upset at our booth and reported that there was a Japanese company "Rokkoman" that offered copies of all fine tuning vibratos currently available and even in their price lists as "Floyd Rose Tremolo", "Kahler Tremolo" and "Rockinger tremolo" specified. He had this price list with him, everything in black and white. I, of course, also super acid.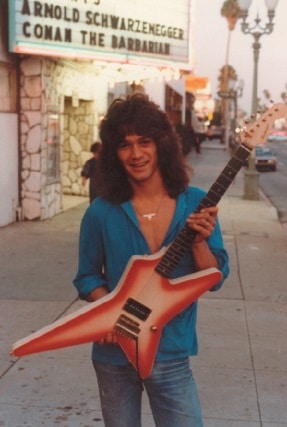 What to do? Yes, first talk to Mac Wonderlea [the editor of the journal, the editor]! This outrageousness must simply be brought to the world public through the media! Expose these slit eyes! So, all those affected, including a bunch of media representatives, to the Rokkoman stand and stir up these people!
Dennis Berardi from Kramer was also quick to win, as was someone from the American guitar player. And then the next morning we actually showed up with about 40 men at the Rokkomans and asked them what that was all about and whether they had the least idea, perhaps to ask for licenses for their copies. The Japanese were instantly contrite and ready to make any concessions. Well, the Rokkomans, who also had other products to offer, immediately destroyed all price lists and offered cooperation. And the next morning all Rokkoman booth members had red, teary eyes.
These are the things that you may not understand about Asians. And further: I never received any license payment, even though we had a corresponding contract shortly afterwards.
Below is information from a reader that seems to be "in the know" on a few characteristics of the Rockinger beginnings, but I can't confirm if all details are correct:
"According to a German guitar magazine (article by someone in R&D at Rockinger at that time), Rockinger approached Kramer at a fair in 1980 which lead to a deal and subsequently to the EVH trem that was marketed in the USA by Kramer.
Eddie obviously liked it enough in the beginning, so they could have him endorse it. However, a short while later, how much shorter is not stated, they heard by accident that Kramer were about to end that deal and would start working with Floyd instead, and my guess is that at this point Eddie wasn't satisfied with that trem version any more.   What lead Kramer to change their supplier to an American company is unknown at this point – probably production costs and influence on design aspects. Funny enough, a Rockinger delegation met with the Kramer guys to discuss their deal and Kramer denied planning on working with Floyd Rose right away, but someone had a poster still hanging on a wall in plain sight about that Floyd collaboration. So Rockinger knew what was up eventually.
They approached another dealer to ensure further USA supply. Also by accident, they ran into Eddie himself at a Guitar Center (who may or may not of had an idea what was going on) and talked to him about their trem design, even brought a new star shaped guitar with that trem, and gave it to Eddie. There's a photo of him and that guitar in front of that GC if you scroll down a bit – https://www.gitarrebass.de/stories/die-ersten-verstimmungsfreien-vibratosysteme/. Eddie was allegedly more than happy and satisfied, but would turn to the Floyd trem after all."
Rockinger guitar headstock.